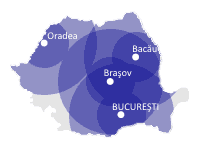 The structure of MARCO & ALEX is developed in main directions, according to our clients necessities.
The designing, the order processing and the consulting to find the best solutions for the problems related to cold rooms, refrigeration units and other systems, of our clients is managed by a team of refrigeration engineers with experience. They are well connected to the international network of specialists in the field, whom with they cooperate, constantly exchanging information and experience.
Managing the assembly work for the cold rooms and other refrigeration systems is assured by a team of engineers (project administrators) which coordinate assembly technicians with appropriate qualifications for the operations that they are responsible for.
The servicing of the refrigeration systems in the warranty period and also the maintenance are the responsibility of an independent structure with has in composition both refrigeration engineers and foremen and technicians with vast experience.
The technical designers and project administrators are concentrated in the central headquarters in Bucharest, the assembly teams are mobile executing assembly works all over the country, and for service there are four centers according to the above map, so:
95% of the country territory is covered by one of our centers at a maximum distance of 200 km
70% dof the country territory is covered by at least two of our centers at a maximum distance of 200 km
40% of the country territory is covered by one of our centers at a distance of lower than 100 km