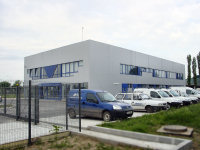 MARCO & ALEX is a group of companies which together provides complete cooling solutions: refrigerated showcases, cold rooms, as well as other refrigerating systems which covers a wide range of applications in the industry, commerce and research.
By complete solutions we understand an appropriate design for the objectives of the clients, supplying all the necessary equipment to support their activities, commissioning, staff training, maintenance and repairs during operation.
We are a team that is passionate of this very interesting domain and that make us to never tire of searching for new solutions and possibilities to improve current refrigeration systems, refrigerated showcases or cold rooms, in line with our customers' requirements. We are always willing to get involved in new challenges to push the boundaries of technology beyond the current barriers.
After the political changes of December 1989, the Romanian economy entered a race against time to recover the huge gap against the Western Europe. Who can remember the refrigeration systems used before 1989 can notice the tremendous effort that the artificial refrigeration specialists from were subjected to so that they could be able to serve today's most pretentious clients at international standards and sometimes even above them.
In this period there were a series of national premiers in which we were the protagonists. Among them, worth mentioning are the introduction of digital controllers in the automatization of the refrigeration systems, designing and installing the first centralized Romanian refrigeration system (client: Angst), the usage of screw compressors in refrigeration systems with Freon, designing and installing the first Romanian CO2 refrigeration system.